The event industry is growing quickly–estimated to be worth $2 trillion by 2028. But that growth is also spurring rapid changes, as digital tech transforms how we engage with events and more people join virtual events than ever!
But nothing has changed the landscape more than mobile event apps. They put the planning and experience of an event into the palm of your hand–and you can even build your own! In this post, we'll introduce you to some event-planning apps to help your next event shine!
Make sure to try our event name generator too!

((toc))
What to consider with an event planning app



In-person, virtual, or

hybrid

: You need different features based on event type.




Point of sale

: If you're selling tickets through the app, it needs to be able to handle payments.




Operations vs. event hosting

: You might need different kinds of apps, depending on whether it's going to manage the operations or be public-facing (e.g. virtual event). Some apps do both.




Branding

: Do you want your event planning app to be under your own brand or not?




One-time vs. ongoing

: Will the app be done after the event, or would you like an ongoing event community?



Best mobile event apps
These are the best event-planning apps and production apps out there (some do both).
1. Mighty Pro
Best white-label event planning app
Best for: Virtual Events & Event Communities
Use: Planning, Production, and Ongoing
Sell tickets?: Yes
Branding: White-Label Mobile App
Mighty Pro is the ultimate community and event app, bringing together virtual events with features like member profiles, content options, discussion forums, chat & messaging, and even courses. With Mighty, you can create and sell tickets to your event but also create a flywheel business that keeps generating revenue long after the event is over.
With Mighty Pro, your event comes on a mobile app that's under your brand in the App Store and Google Play Store. You can sell tickets in 135 different currencies, or monetize other parts of an event like private groups, coaching, premium courses, etc.
When you build on Mighty, you'll work with a team of account executives and community strategists who will help you maximize the revenue from your mobile event app. We've built event apps for brands and public figures like Jim Kwik, Adriene Mishler, TED, and Fortune.
Schedule a call with us and we'll show you what we could build!
Pros



Event app under your brand




Powerful community functions ith G2's top-rated community platform




Chat & messaging, discussion boards, virtual events, RSVP, etc.




Monetization features (build ticketing, bundles, etc.)






Work with the Mighty Pro Team




Best-in-class AI features



Cons
It's a premium app for established events and brands. If you're just getting started, try Mighty Networks.
2. Hopin
Best for: Virtual
Use: Production App (Day of)
Sell tickets?: Yes
Branding: No custom branding
Hopin is a platform for live and virtual events, bringing together things like badges and ticketing with a virtual set of tools for an interactive lobby, breakout rooms, and livestreaming stages. It has some production tools to help you create the best event possible.
Hopin has some branding options for customizing your app, but it DOESN'T have white-label apps. It's also a one-time production app–not an app for a year-round community.
Pros











Group and private messaging




Multi-speaker livestreaming



Cons



Chat is overwhelming (community

forums

would be better)




Hard for participants to engage with each other (no networking functions)




Limited ticketing options and some UX issues





3. Stova
Best for: Virtual
Use: Planning & Production (Day of)
Sell tickets?: Yes
Branding: No custom branding
Stova (formerly Aventri & Meetingplay) is another mobile event app that can be used both as an event planning app and to run a virtual event. Its conference platform comes with livestreaming, breakout rooms, chat, and sponsor booths. But it also gives you features for planning and marketing the event: things like a budget for tracking event spending, or email marketing to help promote it.
Stova is similar to Hopin, but does better in the breakout rooms and sponsorship booths. It also fixes the main problem with Hopin-adding in a 1:1 networking meeting scheduler. The concept is really great, but the service is pretty new (the merger happened summer 2023) so it remains to be seen how solid the new app will be.
Pros





Breakout rooms & networking




Virtual lobby & sponsor booths







Cons
No white-label app
4. Swapcard
Best for: Live
Use: Planning & Production (Day of)
Sell tickets?: No
Branding: No custom branding
If you're looking for a production app for a live conference, Swapcard is a fantastic option. With managing and promotion built-in, you can send notifications, attendees can network, you can add speaker bios and abstracts, and when people register for sessions it creates their own custom schedule with notifications. Badges come with scannable QR codes and your attendees can use it to manage every part of their conference participation.
Swapcard is NOT for virtual conferences, but it's a solid option for in-person ones. And Swapcard isn't a white-label option, your attendees use their app.
Pros



Speaker and attendee profiles






Networking (with in-app chat)




Scheduling & notifications



Cons





No virtual features (it's for a live event)



5. Bevy
Best for: In-Person or Virtual
Use: Production (Day of)
Sell tickets?: Yes
Branding: No custom branding
Bevy has a community-based approach to events, either live or virtual. Since it started as an in-person event company and switched during the pandemic, some of the features are best for live events–for example, the app is for ticketing and check-in. You can use Bevy to add event landing pages, and some of the virtual features replicate parts of a live event: lobby with sponsors, or breakout rooms.
The livestreaming happens with a YouTube or Facebook integration, which is unfortunate. And the community features are better than nothing, but still really limited for an event community–only really chat, DMs, and some content options. But with some white-label features, Bevy is an option to run your event under your brand.
Pros



Virtual lobby, sponsor booth, & breakout rooms







Cons
6. CVent
Best for: Virtual or Hybrid
Use: Planning & Production (Day of)
Sell tickets?: Yes
Branding: No custom branding
CVent is a mobile event app that has a good virtual event platform and works decently for live events too–complete with an event management app. You can use CVent to build a website, sell tickets, and create some content. It also has event organization features, with hotels and venue selection and promotional tools. For a virtual event, add-in webinar-like tools. And for a live event, the app helps attendees navigate the day.
However, CVent's good potential is overshadowed by the numerous negative reviews, and the fact that it's missing features like chat, analytics, livestreaming, or custom branding.
Pros



Good planning features for live events



Cons








7. ON24
Best for: Virtual
Use: Production (Day of)
Sell tickets?: Yes
Branding: No custom branding
ON24 works best for webinar-style conferences, with a presentation-style format that doesn't include audience engagement. This can be fine if your live event is one-directional. For an event with lots of networking or needing member engagement, it's not great. The design is also quite dated.
Pros
Cons



No engagement or networking features







Examples of mobile event apps
Drew Binsky's JUST GO app
Drew Binsky is a content creator and world traveler who has visited all 197 countries in the world and documented his travels on his YouTube channel where he has over three million subscribers.
His videos shed light on the wide array of food, culture, activities, and communities that compromise our vast planet and while he has a vibrant community on YouTube, he wanted to connect with his members in a more direct way.
In the past, Binsky has scheduled one-off meetups by using your typical social media strategies: posts, livestreams, YouTube videos, and announcements which worked but weren't very scalable. He needed a solution that could fit perfectly within his growing brand, but provide a more dynamic, on-the-go experience for his community.
For a traveler like himself, Binksy is passionate about the spontaneous connections one can make while traveling and a mobile app that connected tens of thousands of travelers in one place seemed perfect.
With the help of Mighty Pro, Binksy and his team built fully branded apps for iOS and Android devices that are revolutionizing the ways they do live events and connect their worldwide community.
The JUST GO app is an intimate space that brings together his travel community as one giant family. In the app, members can talk with other travelers, and join meet-ups in cities around the world (and especially near where they live thanks to locations services). Basically, you can think of the JUST GO as the coolest social travel club in the making on the market today.
Binksy is going all-in on his mobile app as a major marketing strategy for live events too. When you visit his Instagram or various other social feeds, you'll notice that the JUST GO APP is front and center. On his Linktree that app is the first thing, he's advertising, noting that there are already 15,000 travelers working on multiple meets ups right now.
And the results speak for themselves, having recently launched his app, he's already hosted a successful live event organized completely within the JUST GO app. The app is so exciting to Binksy because it single-handedly allowed him to increase the frequency and speed at which he and his audience can organize events, and has created a new potential revenue stream for him to explore as his programming evolves.
Aaron Doughty's HighViber App
Aaron Doughty, is another highly successful Youtube content creator and online course creator who is embracing live events again. Aaron Doughty is an expert at helping people unlock their full potential. With over 1 million Youtube followers, he provides practical life-advice, and meditation, and his teachings expand people's consciousness in ways they never expected.
Doughty launched his app, The HighViber Community, with the help of Mighty Pro in the Spring of 2021 as a way to bring all of his members together in one place to support and connect with one another. The HighViber App has helped Aaron's business by connecting his members like never before and allowing him to offer courses and community together in a social learning experience.
His team told us a bit about why he invested in branded apps in the first place, "The ability to bring my customers together in one place has been what I've dreamed of since I started my business. 99% of the posts in the community are member-generated, and I especially love that members can locate other people who live nearby. Having my own app is incredible and my customers feel right at home."
Now, Doughty is leveraging the growth he's achieved through his branded apps and using them as a springboard to supplement his in-person live events. In May, Doughty is hosting a three-day live event called The Shift Experience in Austin Texas. The event will help attendees remove the blocks holding them back from embodying their life purpose through workshops, guest lectures, networking activities, and more.
His branded app will play a big role in this event by allowing attendees who can't come to the event in-person to buy virtual tickets and tune-in wherever they are in the world. But this is a much more cunning move than simply allowing for more attendees.
By having the virtual experience supplementing the in-person event, Doughty can actually make the in-person event more exclusive with only 80 tickets, charge a higher price, and create a sense of FOMO as the ticket quickly sell out. And while he builds that momentum for the in-person event, he still doesn't lose out on revenue by having his branded apps be another gateway to the experience.
Sadie Roberston Huff's LO Sister App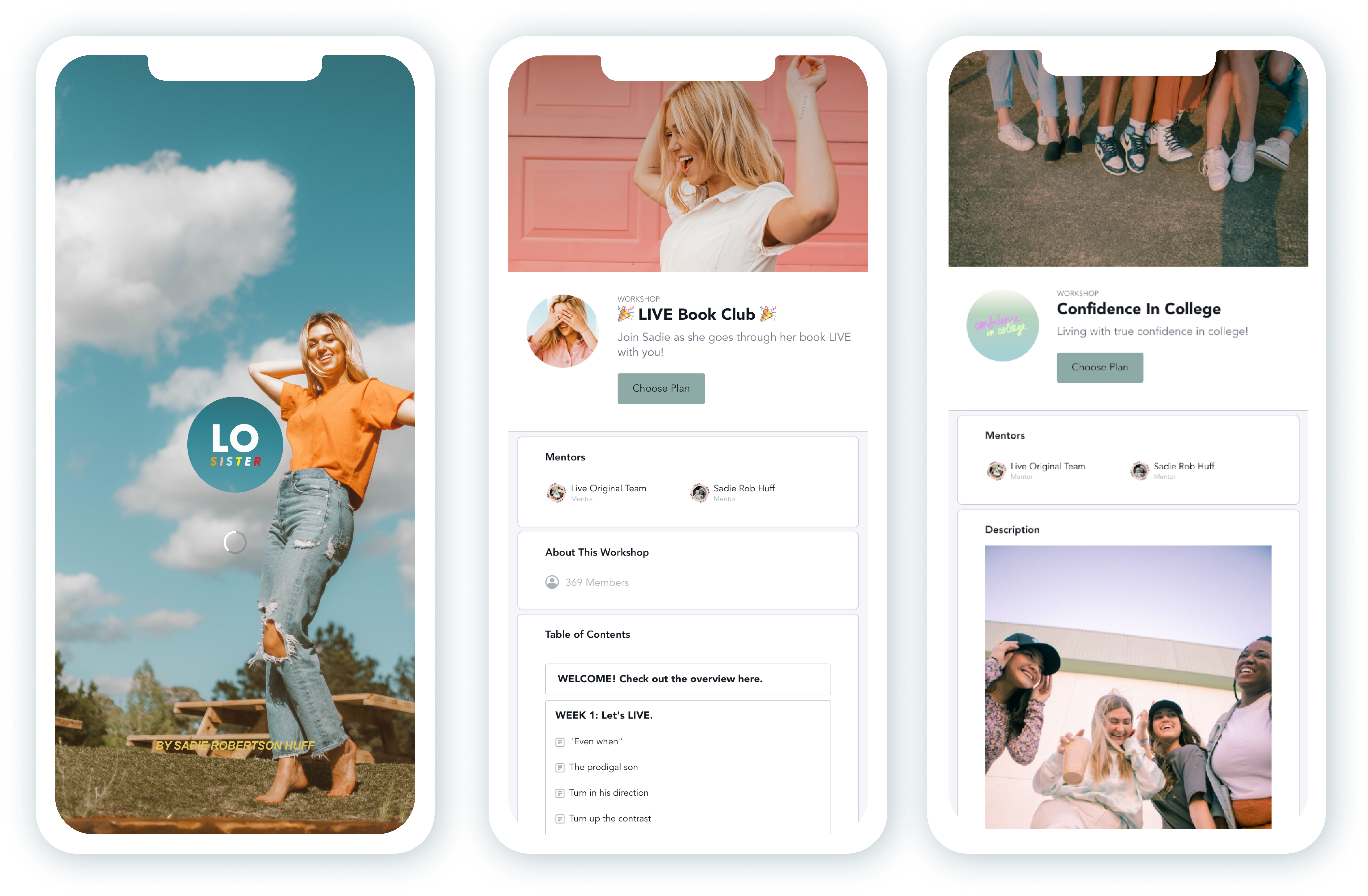 Sadie Robertson Huff is a New York Times best-selling author, speaker, TV star, and one of the world's most influential voices for young Christian women today, with over 4.6 million Instagram followers, national speaking tours, and a top-ranking podcast called, "WHOA, That's Good."
Live Original is Huff's personal brand where she sells apparel, her blog, event tickets, her books, and markets her online community LO Sister. Partnering with Mighty Pro, Huff and her team created the LO Sister app completely under her Live Original branding as a way to connect her large audience together no matter where they are across iOS and Android apps. A key part of Huff's business model is hosting large in-person conferences retreats for faith-based worship and ministry for her audience complete with guest speakers, multiple activities, live music, and more.
Huff's team saw an opportunity to elevate their live event experiences by using the LO Sister app as the ultimate tool in connecting attendees together. The LO Sister community is comprised of young women from across the United States who are all trying to grow in their faith, and most of which are in college. In turn, members of the LO Sister community have a lot in common, similar struggles, goals, and ambitions, and while the conferences provide them a chance to meet other women like themselves, it's incredibly easy to lose contact once the events are over.
The LO Sister app solvees the problem of keeping their community connected long after the conferences and retreats have ended. Instead of the conversation ending when the event wraps up, Huff encourages her attendees to keep the dialogue flowing by downloading her free app and sharing their experiences inside.
The branded app becomes an extension of the live event offering, something that allows attendees to experience moments again and kindle new connections with others who are just like them. Huff's team told us they saw a 24% increase in new members following the end of a recent conference.
Ready to start?
If you're ready to get started with your own white-label event planning app, schedule a call with us and we'll show you a demo!